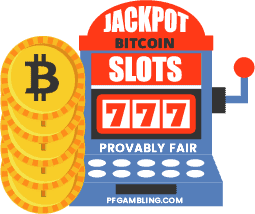 Slots are usually draw the most player activity in online casinos. Provably Fair casinos are no different when it comes to their main attraction. Provably Fair Technology supports a more transparent system that allows the players to verify the fairness of their game after each spin.
Provably Fair Technology is exclusive to Bitcoin casinos, but the technology is growing in popularity and has potential to be applied across the entire online gambling spectrum. This page contains information on how Provably Fair Bitcoin slots work, specifically with the technology integration. You will also find a list of the best available Provably Fair Bitcoin slots on the market.
Top Rated Provably Fair Bitcoin Slots For 2023
The online gambling market is dense. A quick Google search will yield thousands of results for online gambling destinations. Narrowing down your search to Bitcoin casinos will help lighten the load, but there are still many options available.
Our team of Bitcoin slot analysts have compiled a list of the best available Provably Fair Bitcoin slots. These brands offer a wide selection of slot games outfitted with PF technology along with bonuses and customer support. You can look through the Provably Fair Bitcoin slot venues by clicking on the links in the table below.
How Does Provably Fair Technology Apply To Slots?
Provably Fair Technology essentially works the same across all gambling forms, but there are differences between each game. For slots, a computer model is used to assign a random number to each slot designation (the more reels, the more random numbers used).
Another random number is generated, known as the Secret, and is used to create a fingerprint for that individual spin (called the Result). All of this is conducted by hashing the data with the Provably Fair standard SHA-256 hashing algorithm. This information is given to the user for them to test at the end of the turn.
Before that, the player has the opportunity to add their own effect to the game by selecting a random number, furthering each reel by that designated number. This number is unknown to the house. At the end of the game, the player has all the information required (Secret, Result and player's own input value) to verify the fairness of the game.
If all the hashes matchup, you can rest assured there was no tampering with the game result. Players can either utilize an in-house Provably Fair testing widget or an independent hash calculator.
What Are Bitcoin Faucets?
Bitcoin faucets are an interesting component of Bitcoin gambling. They are websites that offer Satoshis, or millibitcoins, for free—usually after some user-input task (i.e. Captcha). While difficult to fund your Bitcoin gambling account entirely through a Bitcoin faucet, they are a good supplementary tool for Bitcoin users. Some Bitcoin casinos have their own built-in Bitcoin faucets.
What Types Of Slots Are Available On Provably Fair Bitcoin Slot Websites?
Online instant payout casinos have a varied selection of slot games. The main differentiating factor is the online gambling software used by the website. There are several leading software providers in the market, and online Bitcoin casinos either use their software to power their entire site or just use some of the individual games they have developed. Reputable Provably Fair Bitcoin slot websites will have 3-Reel slots, 5-Reel slots, slots with progressive jackpots and more.
Are There Bonuses With Provably Fair Bitcoin Slots?
Yes. Bonuses help give online gambling sites their unique identity. The most common type of bonuses with an online Bitcoin casino is a match bonus, where your deposits are matched by a designated percentage up to a certain amount.
For example, you will see a 100% match up to $5,000. There are other bonuses specific to slot games that keep players' bankrolls going. Bonuses, coupled with Bitcoin faucets, foster a low-risk playing environment where players do not have to stake their own money with every spin.
Is Free Play Available?
Yes. Free Play is a game mode where players can run the different slot games without gambling any real money. It is a popular technique for familiarizing yourself with how the slot games work. In some cases, free play is confined to only a handful of games, but most Bitcoin casinos will allow you to sample all of their slots for free.
How Do Provably Fair Slots Work?
The Provably Fair casino industry is still relatively new and in the process of being rolled out. However, there are a few sites in operation. Our team of online gambling analysts expect the websites to feature slots based on the cryptocurrency you are using.
While Bitcoin, Litecoin and Ethereum are amongst the top-rated digital currencies, there are other viable options for alternative currency users. In any case, the user dashboard will be relatively simple, and there will be a tab that allows you to toggle between the actual slot and the provability testing window.
We also expect there to be some sort of leaderboard menu where players can see how they stack up against each other. There may even be a section containing data relevant to the particular slot you are using, including how much of a certain cryptocurrency has been bet and won on that game and so forth.
Are These Sites Secure?
Yes. Cryptocurrencies are inherently secure in nature, and transactions usually only require the amount you would like to send and your digital wallet address. This eliminates any personal information being attached like you would see with credit card transactions.
On top of this, we expect Provably Fair gambling sites to allow users to toggle their security settings. We expect features like hiding your profit, hiding your user nickname in high rolls and hiding your investments.
Other Provably Fair Casino Games In Our Series