Blackjack is a must if you want your online casino to appear legitimate to avid card players. Provably Fair Technology can be applied to blackjack and more Provably Fair blackjack sites will emerge as the technology continues to roll out.
PF Technology is currently exclusive to cryptocurrency casinos, and there are already a few different Provably Fair Bitcoin gambling sites on the market. Provably Fair Technology is an upending piece of the developing online gambling industry.
In terms of blackjack, this technology allows players to verify the fairness of each hand. This makes for a transparent wall between the player and the host website. One of the biggest issues facing the current online blackjack market is trustworthiness, with players having to resort to blind faith that the sites are conducting their games fairly. Provably fair casinos give players the ability to check the fairness of each game in real time.
Best Provably Fair Bitcoin Blackjack Sites For 2023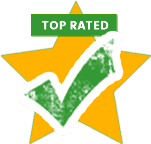 As mentioned earlier, there are a few Provably Fair Bitcoin Blackjack sites in operation. There will continue to be more sites introduced into the market as the technology evolves.
Our team of online Bitcoin gambling experts have assessed the current market and located the best available options. These websites have several bj variations, all of which funded by Bitcoin and complimented with Provably Fair Technology.
How Does Provably Fair Technology Apply To Blackjack?
Provably Fair Technology makes it impossible for both the casino and the player to cheat. The casino will incorporate an algorithm to generate a random shuffle of the cards in the deck. The casino will also generate a seed for the initial deck and other for the shuffled deck. These seeds make up a cryptographic hash via the SHA-256 hashing algorithm.
Players add their input by cutting the deck via client-generated seed value. For example, if a player selects 12, the deck will be cut 12 cards from the top and dealt out. At the end of the hand, players can navigate to the Provably Fair testing window where they will be prompted to enter in the corresponding hash values, including the one they inputted themselves.
Cryptographic hashes are unique in that they maintain their value unless there has been tampering. If there has been tampering, the output value will return differently than the input player values. If all the same values are returned at the end of the game, it is guaranteed there has been no tampering with your hand.
How Can I Verify The Game Through Provability Testing?
Most Bitcoin blackjack sites with Provably Fair Technology will have an in-house Provably Fair testing window for players to use. You can access the window by selecting the Provably Fair tab in the dashboard. Along with the in-house window, players can run the same hash values through an independent Provably Fair testing service. Either option will work, and players can even use both for added assurance.
Are There Provably Fair Bitcoin Blackjack Bonuses?
Bonuses are a trademark component of online gambling with most instant payout casinos. Bitcoin-exclusive gambling sites are no different. Our team of industry analysts fully expect Provably Fair Bitcoin blackjack sites to have Welcome Bonuses, blackjack-exclusive bonuses and more.
The most common type of bonus is a match bonus, where players' deposits will be matched by a percentage up to a certain amount. For example, a deposit will be matched 200% up to $1,000. Bonuses incentivize play and keep bankrolls stimulated. BJ bonuses are often administered incrementally as play continues.
Can I Track Other Players?
We expect Provably Fair Bitcoin bj sites to have leaderboard components where you can see which players are performing the best. Players should also be able to see how much Bitcoin has been wagered and won with different games—not only Bitcoin, but other accepted cryptocurrency types.
There are privacy features that allow players to hide their nickname under certain circumstances. This fosters a more anonymous play environment, something valued by online players.
What If I Don't Know How To Play Blackjack?
Along with Provably Fair Technology and leaderboards, we expect Provably Fair Bitcoin blackjack sites to have a How To Play section to educate players on the most important components of the game. Players can find a basic explanation of the game, including the objective, turn options (surrender, double down, splitting, etc.) and even some basic strategies.
For more advanced strategies and playing techniques, players must access third-party resources, but you can get by with basic strategy and an understanding of how the game works.
How Many BJ Game Types Are There?
Currently, blackjack game variations are limited through Provably Fair Bitcoin brands. However, as the market continues to develop, we expect more game variations to be available. Players will see a 3D representation of a black jack table, but toggling between game types is a feature that should be coming in the near future.
Other Provably Fair Casino Games In Our Series