Some online gamblers prefer fan-favorite games like blackjack, Texas Hold'em or slots. However, some players are looking for a more unique online, Provably fair gambling experience. These players tend to flock to games like dice, Keno, and other specialty options.
Dice players have options for gambling with sites featuring Provably Fair Technology. This allows them to play their favorite game(s) with the confidence of knowing they are doing so fairly. Through Provably Fair dice games, players can verify that the odds and game outcome were not manipulated by the server to give the house an edge.
This page was created for players looking for Bitcoin-friendly dice games using Provably Fair Technology. You will find information on how these dice games work, game strategies, and more. After reading through this page, you will be well-versed in Bitcoin dice gambling.
Best Provably Fair Dice Games Available In 2023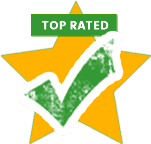 There are many online gambling sites available, and only some of them accept Bitcoin. The number of casinos dwindles yet again when narrowing your search to Bitcoin dice games.
Our team of industry experts has gone through the search results regarding Bitcoin-friendly and Provably fair casinos to find the best available sites. These sites offer several dice game variations with bonuses that reward you for playing.
Below you will find a table with the top results for Bitcoin dice gambling. Feel free to browse through the sites by clicking the links provided in the table.
How Does Bitcoin Dice Work?
Bitcoin dice is a relatively simple game. In most versions, players must select a number. Your next choice will be to bet on whether the dice will roll higher or lower than the number you have selected. The numbers will change depending on the game type you have selected.
The wider the range of available numbers to bet on, the more difficult the game. However, with greater risk comes greater rewards. Before you are able to place a bet, you will have to deposit Bitcoin into your online gambling account.
This is also a simple process that requires you to enter your digital wallet information and designate how many Bitcoins you wish to send. Some sites feature free-play versions of their games so players can get a feel for them, but this is not always the case.
What Is The Bitcoin Dice Faucet?
If you are new to the Bitcoin world, you may have come across the term "Bitcoin faucet". What does this mean? A Bitcoin faucet is a website that gives away free Bitcoins. There will usually be some minor task, like entering a captcha, at which point you will be rewarded with a few Satoshis or millibitcoins.
Obviously, you will have to fund your Bitcoin gambling account in order to keep playing, but Bitcoin faucets are a good source of additional funds that keep you playing. Some Bitcoin dice gambling sites have faucets built into their platform.
Are There Any Bitcoin Dice Strategies?
Bitcoin dice games may seem simple in that you are only betting on the dice to roll high or low, but that does not mean there are no strategies available. The two main components of the Bitcoin dice strategy are bet selection (betting high or low) and how much you bet—learning how to spread your bets can keep you in the game longer. We will go over three different betting strategies: Martingale, Paroli, and D'Alembert.
Martingale
The Martingale strategy is well-known throughout different casino games. It is a betting strategy best applied to games with 50/50 games like dice. First, you must determine the amount you would like to wager. If you win, simply continue wagering the same amount.
If you lose your bet, double the initial amount. Once you win again, revert back to the original bet amount. Doubling down on a loss ensures you will win your losses back; however this strategy can get out of hand quickly if you go on a losing streak.
Paroli
The Paroli betting strategy is another popular option but involves less risk. This strategy also works in the opposite direction of the Martingale. If you win a bet, double your wager on the next bet. Players should only reset their bet amount after a loss or if they win three bets in a row. The three-win limit lowers the risk of losing everything and is designed to help you take advantage of your winning streaks.
D'Alembert
The D'Alembert is the most cautious of strategies that can be applied to Bitcoin dice gambling. One you have your bet amount set, simply increase your wager by one until you win. If you win, decrease the wager by one. It is easy to see why this strategy is deemed as the most cautious, as it has a very slow pace. However, this slow pace allows players to stay in the game longer and is easy to implement.
Are There Bitcoin Dice Bonuses?
Yes. Bitcoin gambling sites are like other standard online gambling sites in that they feature bonuses for players. There are Welcome Bonuses that reward players with additional income right out of the gate.
There are other bonuses that can reimburse you for losses, essentially serving as a rebate system. Bonuses will vary per site, but most reputable Bitcoin dice gambling sites will have some form of promotional offering for players.
Other Popular Casino Games